My niece celebrated her 6th birthday with her Kindergarten class, family, and friends last month. The party theme was gymnastics.
I wanted to work with fondant this time but only to add details to the cake. I found a template online and used it to design the top.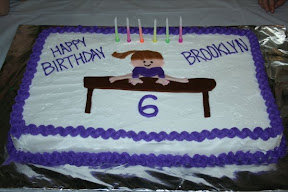 It turned out great! I really enjoyed making it. The cake was chocolate chip with buttercream icing. Wilton fondant was used to design the girl and the balance beam.
Happy Birthday Brooklyn! I'm glad your party was a hit!